Lauren Anderson
Mrs. Fezziwig
Lauren is thrilled to be making her debut as a member of the Nebraska Theater Caravan to share one of her favorite stories with you. Favorite credits include Millie in A Christmas Carol, Carrie Pipperidge in Carousel along with various roles in Sister Act, Young Frankenstein, She Loves Me, Cabaret and others. When not on stage, Lauren can either be found playing the banjo, rocking a Color Street business or as a Media Planner/Buyer for Smith Kroger in Omaha Ne. See more of her antics here: @inherentlyren
Christian is excited to be with Nebraska Theatre Caravan for his first national tour! Christian is a native of Clarksville, Tennessee and he holds a BFA in Musical Theatre and a minor in Dance from the University of Memphis. He was last seen performing at Kings Dominion Amusement Park (Doswell, VA) in their Halloween show, Heads Will Roll. Other credits: Our Town at Ozark Actors Theatre (George), Mamma Mia! at Studio Tenn Theatre Company, Cry-Baby the Musical at Tent Theatre, Disney's Newsies at Theatre Memphis (Romeo), Aida the Musical at Hattiloo Theatre (Mereb). Christian would like to thank the cast and production team for A Christmas Carol, and his mom and brother for their never-ending support.
www.christianandrewboyd.com
Instagram: @christianboyd13
Andy is thrilled to return to the Caravan for his 7th tour of A Christmas Carol. His last tour was in 2017 when he had the privilege of playing the role of Bob Cratchit, but stepping back into Jake is always a guilty pleasure. Recently, Andy participated as a reader in a new works play festival at City Lit Theatre in Chicago. Other favorite roles include Moonface Martin in Anything Goes, C.S. Lewis in Freud's Last Session, Gooper in Cat on a Hot Tin Roof, Jonathan Brewster in Arsenic & Old Lace, Mr. Bungee in A New Brain, David O. Selznick in Moonlight & Magnolias, the Baker in Into the Woods, and Toad in A Year with Frog and Toad. Many thanks to the OCP for continuing this wonderful tradition, to Anna and his family for their support, and to Mr. Dickens for the the words. Excelsior!
Michael Cleary
Young Scrooge/Ebby
Michael has spent the last 2 years as a performer at Dollywood in Pigeon Forge, TN. He received his BFA in Musical Theatre from the University of Montevallo, and is excited for his first tour with Nebraska Theatre Caravan. Favorite credits include: Joseph & The Amazing Technicolor Dreamcoat(Joseph), Newsies(Morris Delancey), Dreamland Drive-In(Dipstick), and A Grand Night for Singing(Martin). He would like to thank his family and friends for their support, and Nebraska Theatre Caravan for the opportunity to travel and tell this story.
Annabelle DeWater

Frances Cratchit
This holiday season marks Annabelle DeWater's third year as a member of the Cratchit family. She previously appeared as Tiny Tim in the 2018 NTC tour and the 2017 Omaha Community Playhouse mainstage production of A Christmas Carol. A native of Omaha, Nebraska, Annabelle is a fifth grader who enjoys music, Minecraft, drawing, reading and traveling. She spends her summers studying theater at Interlochen Center for the Arts.
Miles is incredibly excited to be joining the touring cast of A Christmas Carol! Miles is 10 years old, lives in Des Moines, IA and is a 5thgrader at Bergman Academy. He has performed the part of Tiny Tim for the past two seasons with Iowa Stage Theater Co. and is thrilled to again be putting his tininess to good use! He has also performed the role of Stink in Des Moines Community Playhouse's production of Judy Moody and Stink. Miles enjoys Minecraft, computer programming, drawing and attempting to break the laws of physics. He would like to thank his parents and his siblings Asher, Indigo and Liam for supporting him and feeding him ice cream.
Garrett is proud to be making his national tour debut! Regional credits include Disney's NEWSIES (Crutchie), Damn Yankees, The Little Mermaid, Oklahoma! & Elf The Musical. Special thanks to Nebraska Theatre Caravan for this opportunity, and his family, friends and pet bunny, Cane, for their constant support. @jggrif | www.garrett-griffin.com
Marcia Faith Harper
Christmas Past
Marcia is a recent graduate of Columbus State University in Columbus, Georgia. She has performed professionally at the Springer Opera House(West Side Story, The Great Gatsby) and is excited to be making her professional debut outside of her college town! She would acknowledge her amazing support system of family and friends. She would also like to offer two challenges to herself and anyone else who would like to take them: 1. Do your job well and treat people kindly. 2. Honor the past, acknowledge the present, salute the future. Enjoy the show, Merry Christmas and Happy Holidays!
Caylyn Jarmon Vinson
Martha
Caylyn is a native of Columbus, Georgia and recently graduated from Columbus State University with a BFA in Theatre Performance where some of her credits include Fancy Nancy Splendiferous Christmas (Jojo) and Love's Labour's Lost (Maria/Jaquenetta). Since graduation, Caylyn has toured with Prairie Fire Children's Theatre as the Fox in Pinocchio as well as playing Lisa in Mamma Mia at the Springer Opera House.
Noah is making his Nebraska Theatre Caravan debut. He continues his annual tradition as this is his fifth year participating in a production of A Christmas Carol. Noah was most recently seen playing Travis in a production of Footloose at Nebraska Wesleyan University. Some of his favorite roles include Christopher Boone in The Curious Incident of the Dog in the Night-Time, Peter Pan in Peter and the Starcatcher, and Cosmo Brown in Singin' in the Rain. Follow Noah's career @realnoahluke on instagram. Happy holidays!
Anna received her Bachelor of Arts in acting and directing from the University of Nebraska-Omaha in 2015, where she played the titular role in Hedda Gabler. She has appeared in Nebraska Shakespeare's company for Shakespeare on the Green for multiple seasons as actor, assistant director, and Camp Shakespeare Co-Director. From 2016-2017 Anna was an actor-educator with RESPECT, using theatre to teach students about healthy relationships across Nebraska and Iowa, and is currently a Disney Musicals in Schools teaching artist with Omaha Performing Arts. Most recently, Anna appeared in the world premiere of Van Gogh and Meas Adeline Ravoux, as Curious George in Curious George and the Golden Meatball(The Rose Theater), as Caroline in I and You, and Nimmee in The Strangemen Theatre Company's The Woodsman(BLUEBARN Theatre).
Maria is thrilled to be making her debut with NTC. She is based out of Atlanta, GA and is exceptionally happy to be sharing the Holidays with you all. Some previous credits include: Inga in Young Frankenstein (Georgia Repertory Theatre), Lady of the Lake in Spamalot (Georgia Repertory Theatre), and Francisca in West Side Story (Springer Opera House). "I have the worlds greatest support system. To my family, Thank you. To my love, I miss you. Happiest of Holidays everyone!"
Shelley hails from Alabama, where she graduated from the University of Montevallo with a BFA in Musical Theatre. Last seen rocking as Bobbi in Dollywood's Dreamland Drive- In located in Pigeon Forge, TN. Shelley is delighted to bring this timeless classic across the US. Favorite credits: Cabaret (Sally Bowles), James and the Giant Peach (Spider), Hairspray! (Velma Von Tussle), Spring Awakening (Wendla), and Gypsy (Dainty June). Love and many thanks to family, Kim, and Michael.
Trey is beyond ecstatic to be part of A Christmas Carol national tour. He recently graduated from Midland University with a Bachelors in Arts Management and Theatre. Trey previously toured with The Young Americans performing and doing music outreach. Trey's favorite musical theatre credits include: Seymour in Little Shop of Horrors (Post Playhouse), Marcellus in The Music Man (Post Playhouse), and Ike Skidmore (u/s for Curly) in Oklahoma! (Black Hills Playhouse). Be sure to keep up with Trey's journey, by following him on Instagram @trey.mendlik.
Alex is beyond thrilled to return to Nebraska Theatre Caravan in his third season with this incredible group. A Wisconsin native, proud North Central College alum, and current NYC resident, Alex has enjoyed performing alongside vast platforms across the country, particularly with Chicago Shakespeare Theater, Music by the Lake, and including three seasons with the Florentine Opera and their Grammy Award winning production recordings. Alex is eternally grateful to his closest friends & beloved family for their unwavering support, and for the incredible opportunity to share this beautiful story with you.
De'Marcus Monroe
Mr. Fezziwig
De'Marcus is a native of Augusta, Ga and received his BFA in Theatre Performance from Columbus State University. Some of his most memorable credits include: Elf: The Musical (Macy's Manager), Man of La Mancha (Barber/Ensemble), Young Frankenstein (The Monster), Tartuffe (Monsieur Loyal), Hairspray the Musical (Stooie), 25th Annual Putnam County Spelling Bee (William Barfee), Jingle Arghh the Way (Santa Claus). He was also awarded a National Fellowship at the Kennedy Center for the Performing Arts for his achievement in directing. De'Marcus wants to thank his friends and family for pushing him to follow his dream no matter what anyone else says. De'Marcus is super excited to be making his debut with Nebraska Theatre Caravan and is ready to spread some Christmas cheer.
Chase is thrilled to be making her touring debut with Nebraska Theatre Caravan's A Christmas Carol. Chase is in 7thgrade at Alice Buffett Middle School in Omaha, Nebraska. Previous acting credits include Matilda(Alice), The Best Christmas Pageant Ever(Gladys), and Madagascar (Mort), all performed at the Rose Theatre in Omaha. When not acting, Chase is also a talented dancer having won the JTF All Star Performance Award in 2018 and JTF Dance Video Performer Award in 2018 and 2019. Chase wants to send a special thank you to her friends and family for their support and hopes you enjoy the show!
Anna Segatti
Mrs. Cratchit
Anna is thrilled to be returning to the Christmas Carol national tour. Anna is a Chicago based actor. Favorite credits include: The George Kaplan Project (The International Voices Festival), Bunny Bunny (Mercury Theater Chicago), Into The Woods (Metropolis Performing Arts Center), Snapshots (Circa '21), The Bridges of Madison County (Circa '21), Hair(The Barn Theatre), & The Circus in Winter(BSU). Anna is a proud graduate of Ball State University (BFA: Musical Theatre). A special thank you to her family & Andy. Peace & Love!!! @annasegatti // www.annasegatti.com
Marjie Southerland
Dilber/Chestnut Vendor
Born and built in New Jersey, Marjie Southerland now hails from Richmond, Virginia. She has spent the last 5 years sharing the stories of free and enslaved blacks of the 18th century as an actor interpreter for the Colonial Williamsburg foundation (Williamsburg, VA). Prior to that, this self proclaimed "tumbleweed" found opportunity in Chicago, Atlanta, and Florida with several productions and theater companies. Some past performances include: Harriett Tubman in Harry and the Thief (Pavement Group), Cleo in Soul Sisters (Clockwise Theatre), Blue Fairy in Pinocchio (Florida Studio Theatre), and Mimi in Rent (The Road Company). Marjie is beyond grateful to be performing with Nebraska Theatre Caravan. She would like to thank her family, friends and NTC. Follow her on Facebook to find out whats next!
Christopher Violett
Christmas Present
This marks Christopher's third appearance in A Christmas Carolon tour with Nebraska Theatre Caravan; previously he was seen as Peter Cratchit ('97) and Young Scrooge ('08). Favorite credits: Annie(Rooster), The Secret Garden(Dickon), Clue: the Musical(Mr. Boddy), Jesus Christ Superstar(Peter), A Year with Frog and Toad (Snail), and The Who's Tommy(Cousin Kevin). He has sung around the world on Oceania Cruise Lines and in Hollywood to Broadwayin Shanghai, China. BFA Musical Theatre, University of Arizona. www.christopherviolett.com
@ChristopherViVi
Making his return to the stage after a year-long hiatus, Nate is excited to rejoin the Nebraska Theatre Caravan as Bob Cratchit in A Christmas Carol. He most recently portrayed Don Lockwood in Singing in the Rain at Omaha Community Playhouse. Some of his favorite roles include Jay Gatsby in The Great Gatsby, King Triton in The Little Mermaid, Marley in A Christmas Carol, Edna in Hairspray, Bill Fordham in August: Osage County, Captain Walker in The Who's Tommy, Fagin in Oliver,Berger in Hair, St. Brioche in The Merry Widow, Slim in Of Mice and Men and the title roles of Romeo and Julietand You're a Good Man Charlie Brown. When he's not on the stage, Nate enjoys directing as well. Some of his favorite directing credits includeBeauty and the Beast, HMS Pinafore, Romeo and Juliet, August: Osage County, Gypsy, The Cover of Life, Dog Sees God, The Laramie Project and The Rhimers of Eldritch. Nate attended Centenary College in Shreveport, Louisiana where he obtained his Bachelor of Arts degree in Theatre & Dance. He then moved on to obtain a Master of Fine Arts in Acting at the University of Iowa. Nate would like to thank his friends and family for their never-ending love and support and he would like to wish you the merriest of Christmases!
Kirin is excited to be joining the Nebraska Theatre Caravan for the first time! She has previously worked in her home state of Georgia at the Springer Opera House (Elf-Jovie, Newsies-Hannah, West Side Story-Jet Girl), and she often tours with Bright Star Children's Theatre. She lives in New York as a nanny to two wonderful kids. Enjoy the show, and happy holidays!
Rodrigo M. Zaragoza
Marley/Poulterer
Rodrigo is delighted to be on his second national tour! Previous roles include J.D. in Heathers the musical, Randall in Bring it On the musical, Peter in Bare a Pop Opera, Emmett Forrest is Legally Blonde, Freddy Benson in Dirty Rotten Scoundrels, among others. Rodrigo has made his way from the stages in central texas, to southwest regional premieres, to New York City where he currently resides. When he's not on stage, you can find Rodrigo cooking in the kitchen, watering his many plants, and teaching regular yoga classes.
WHO'S WHO IN THE ORCHESTRA
Samantha has been playing music for most of her life, and with the Nebraska Theatre Caravan for many years. She has performed professionally in New York City and in Europe on flute and on the community level on clarinet. She has recorded and helped to develop music for children's theatre productions of "Narnia!" and for "Charlotte's Web". She is very happy to once again be touring with the Caravan this holiday season.
Christina Cruder, from Cleveland, OH, is happy to be returning to the Nebraska Theatre Caravan. She is a graduate of Carnegie Mellon University with a Master's Degree in Music and a Bachelor's Degree in Music from the University of Florida. Some of her recent work includes performances with national tours of: IL Divo, Celtic Thunder, Indigo Girls, SuperTramp, Alan Parson's Project, Disney at the Movies, Frankie Valli, Video Games Live, Zelda Symphony and For U A Tribute to Prince. Recently she has performed with The Lake Dillon Theatre Company and The Rocky Mountain Repertory Theatre. Shows include: West Side Story, South Pacific, La Cage Aux Follies, Once Upon a Mattress, You're a Good Man Charley Brown, Mikado, Sister Act, Ghost, Chorus Line, Annie, A Gentleman's Guide to Love and Murder, and The Fully Monty.
Lamar Carey Curtis

B
assoon
A native of Flint, Michigan, Lamar started teaching himself to play Bassoon at 10 years old. He eventually went on to receive his music diploma from the Interlochen Arts Academy and attended the University of Michigan-Ann Arbor, School of Music. He currently lives in Chicago where he performs as principal bassoonist with Orchestra Nova, Renovo Strings, Apollo Chorus, Chicago Summer Opera and with the South Florida Symphony in Miami, Florida and Gateways Music Festival at the Eastman School of Music in Rochester, NY. Lamar is also a substitute for Chicago Sinfonietta, Lyric Opera of Chicago, and Michigan Opera Theatre of Detroit. He has toured and recorded with Mannheim Steamroller and the Nebraska Theatre Caravan out of Omaha, NE and performed on multiple stages across the U.S., Canada, Europe and Scandinavia. He also enjoys a busy freelance career as a working actor, with several tv, commercial and film credits to his name. This will be his 17th Christmas Carol tour since 1996.
Steven Zumbrun

Music Director/Pianist
Steven Zumbrun is making his 11th pilgrimage to Camden Town as Music Director for A Christmas Carol. He has spent the past 30 years making music across this country (and bits of Canada) with such productions as Sweeny Todd, Ruthless!, Forever Plaid, Wings, Drowsy Chaperone, Bat Boy, and Helwig and the Angry Inch. He also writes, sings, tap dances, and tries to play the accordion.
Jessica Bradley

Stage Manager
Jessica Bradley toured with Nebraska Theatre Caravan for four years as Christmas Past and this is her fourth year as Stage Manager for the tour! Jessica is originally from Des Moines, IA and is now based in NYC. She received her BFA in musical theater performance from Wagner College in NYC. She sends love and thanks to Ryan, Babba, and all of her friends and family for their love and support.
Erin was born and raised in west Africa then studied theatre in South Bend, Indiana. After working summers at Notre Dame Shakespeare Festival and Glimmerglass Festival, she moved to Jacksonville, Florida to production manage at a community theatre. She is now excited to satisfy her wanderlust, sense of adventure, and love of theatre by traveling with Nebraska Theatre Caravan. Special thanks to her best friend and family for all their support over the years.
Brittany Cowgill
Youth Performer Supervisor
Brittany is returning as the Young Performer Supervisor for her third season of A Christmas Carol tour. Other professional credits working with young performers include several shows at the Indiana Repertory Theatre (Indianapolis), Writer's Theatre (Chicago), and The Ogunquit Playhouse (Ogunquit, ME). Brittany has been working professionally in many realms of the technical theatre world, all over the country, for the last 14 years. By far, having the pleasure to return on tour in this role has been one of her biggest joys.
Ian Gammarino
Assistant Technical Director
Ian is one of your friendly neighborhood Christmas Magicians, having graduated with a theatre degree and a geology degree from Radford University last year. He was most recently working with the Santa Fe Opera during their 2018 season as a journeyman carpenter and as a member of the production and music services team. Ian has also worked with the New Harmony Theatre in Indiana, the Wolf Trap Opera in Virginia, and the Only Theatre Center in Maryland. He now freelances as a stage carpenter and actor in Washington, DC. Ian loves going hiking and exploring new towns and is very excited to be back with Nebraska Theatre Caravan for his second year.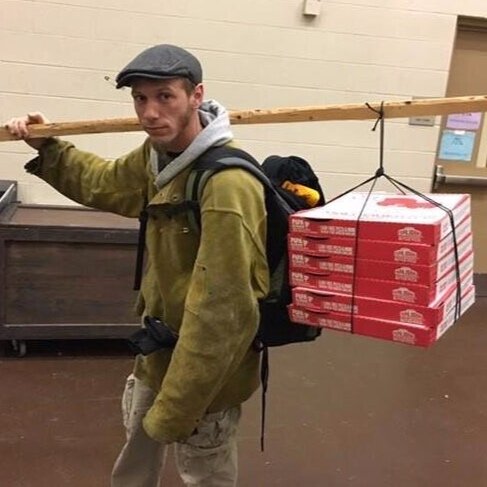 Ethan Hinton
Technical Director
When you have the opportunity to do what you love, you find a lot to love about what you do. One of the things I love most about my time with Nebraska Theatre Caravan is working with the professional and extremely talented staff. From cast, orchestra and crew to the dedicated administrative staff and the encouraging team of directors and designers, each member of the company works hard to make sure each show is the very best it can be. Bringing the highest quality of production to theaters across the country with a diverse yet unified company keeps me returning to and enamored by the Nebraska Theatre Caravan. This is my 12th production with the Nebraska Theatre Caravan and my 3rd as Technical Director.
Ryan Milligan

Audio Engineer
Ryan Milligan is a freelance Sound Designer, Production Manager, and Musician based in Astoria, NY. Ryan attended Theodore Roosevelt High School in Des Moines, IA and received a degree in Music Performance from Truman State University. His recent freelance work includes The Professional Performing Arts School in Manhattan, "The Medora Musical" in Medora, ND, Billy McGuigan's Rave On Productions, Troupe America National Touring Company, and this is his 6th year behind the board with "A Christmas Carol". Ryan would like to thank his family and Jessica for their support, as well as Greg, Kimberly, and Kate for another great trip to Camden Town.
Sydney Norris

Lighting Director
Sydney Norris is a freelance Lighting Designer and Electrician. A transplant from Florida, she is currently based in Philadelphia. She is a graduate of Florida State University with a Bachelor of Arts in Theatre and Women's Studies. Sydney is excited to be apart of Nebraska Theatre Caravan again! Her previous designs in the Philadelphia area include 12 Chairs (Juniper Agency), and Red Lodge, Montana (The Antidote). Other productions include 2018 Apprentice Scenes (Santa Fe Opera); Killer Joe, Ubu and the Truth Commission (FUS School of Theatre Act II); Gruesome Playground Injuries, The Pillowman (The Lost Colony Professional Theatre Workshop; and A Christmas Story (Riverside Theatre). She would like to thank her family, both born and found for all their love and support.
Kimberly Stark

Lead Costumer
Kimberly Stark is expected to be joining the A Christmas Carol tour for a second season! She would like to thank her family, friends, and teachers for allowing her to shoot for the stars.
We would also like to recognize the following Technical Staff:
Jack Lammers - General Technician
Joel Buchholz - General Technician